Research
Metabolomics is the systematic study of metabolite level changes. Among the molecular omics (such as genomics, transcriptomics and proteomics) metabolite levels are the closest to the phenotype of organisms. Metabolite level changes may affect intra- and extracellular communication, stress responses or could indicate non-metabolic changes as well.
We use liquid chromatography coupled with mass spectrometry to study the quantitative changes in metabolite levels. Due to the high resolution and unit resolution of our LC-MS systems, untargeted and compound class-specific methods are both available in our lab. Besides studying the evolution of metabolite level changes in our research, we also provide services to our in-house and external partners also.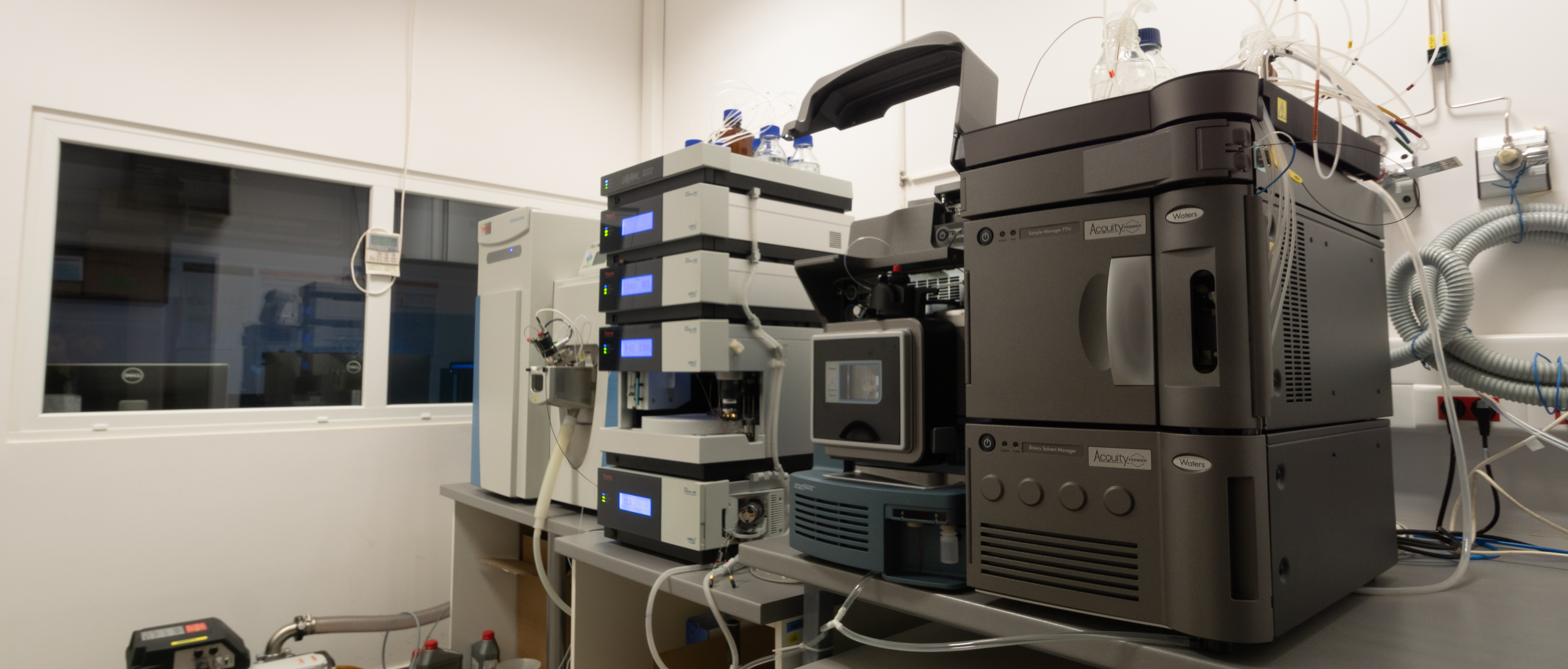 Instrumentation of the Metabolmics lab
Services
Our untargeted metabolomics method is applicable to various sample types from plants to mammalian cell cultures also. The method covers metabolic pathways from central carbon metabolism to amino acids and their biosynthesis. It provides semi-quantitative data about ~160 metabolites with outstanding cost-effectiveness. The data analysis utilizes organism-specific metabolic network reconstructions as well; therefore datasets are suitable for metabolic pathway-level systematic analysis.
In order to extend the coverage of our untargeted metabolomics methods, we are applying compound class specific methods in high throughput fashion. These methods cover nucleotide phosphates, TCA cycle, and amino acids.
Service pyramid of Metabolomics lab
Our goal is to bring metabolomics closer to your research and expand the scope of your studies. To achieve this, we are providing:
Study design

Consultations to help you avoid pitfalls during sample preparation and to provide necessary sample handling methods before sending samples.

Ready to use data table of metabolite levels

Metabolite identification and quantitative quality metadata table (requested by high-end journals)

Descriptive statistics

Basic data visualization

Consultations to help you find the answers to your scientific questions

With the help of our Bioinformatics expert partners, we can provide custom analysis as well.
Why choose us?
In a systems biology research environment, we translate your biological questions into analytical ones, which helps us to come up with the best possible experimental design.

The Biological Research Centre where we work is an interdisciplinary life science research institute. Therefore we have experience with many different sample types (plant, algae, yeast, mammalian cell culture, fungi, various bacteria, etc.) and have ready-to-use or easily adaptable sample preparation methods.

Despite our services being available for external partners for 1 year, we have 4+ years of metabolomics experiments in challenging polar metabolites as previously we belonged to the Laboratory for Molecular Photobioenergetics and Balázs Papp Laboratory.

As we are come from a systems biology background we have extensive experience in statistical analysis of metabolomics data. This helps us translate individual metabolite level changes to metabolic pathway level data interpretation.